February 5, 2015 | Posted in Uncategorized | By Alexandria Searls
We're doing our first Kickstarter campaign, Teaching Children Science through Dance!
https://www.kickstarter.com/projects/150849775/teaching-children-science-through-dance
We have until midnight, February 16th, to receive $2000 in pledges to research, design, and get materials for our new natural history program, Teaching Science through Dance.  We're scheduled to share the program with families at the Virginia Discovery Museum's Kid*Vention science celebration Saturday, February 21, and then again for Earth Day 2015 on the Downtown Mall. At Kid*Vention we're running Migration Station, where children will learn about North American animals and their migrations, draw medallions of their favorite animal, and then learn animal dances. The dances will teach about animal locomotion and attributes.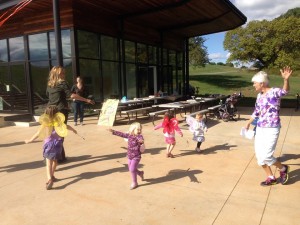 At the 2014 Lewis & Clark Butterfly Festival, dancing the life cycle of the Monarch butterfly
For Earth Day we are moving back in time to explore the  wooly mammoth and the  giant ground sloth–and to start an exploration of older geological epochs.