2018 Calendar of Events
We look forward to seeing you at the Lewis & Clark Exploratory Center! We are open to the public Fridays and Saturdays from 10 to 4, Tuesday through Thursday 1 to 5, and by reservation at other times. We also have special events throughout the year. Last admission is one hour before closing.
Through March 23rd, the Lewis and Clark Exploratory Center is featuring, "Birds, Bugs, and Seeds!" for children of all ages.  Birds: Visitors are invited to paint bluebirds to donate to the area's foster children coalition for a charity auction. Bugs:  Choose from many activities from our Book-of-the-Month, "Drawing Lab," which encourages you to explore nature outside (and bugs) and then produce art works, including found-object sculptures. Seeds: See our exhibit about traveling seeds, and play our challenging matching game, matching seeds to what they grow! Whatever seed you match correctly, you get to take home!
Every month in 2018, we're selecting an activity book as the inspiration for our adventures. February 2018 our selected book is "Drawing Lab for Mixed Media Artists," by Carla Sonheim, recommended to us by a visitor last month! Come in and choose between 52 Creative Exercises (and loads of colored markers and pencils)!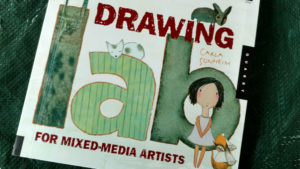 February 2018, we're participating in the Blue Bird Project sponsored by Foster Care Adoption Awareness Coalition. The Blue Bird Project asks for donations of blue bird art of any media, by children and by adults, which will be auctioned off in a fundraiser after a Downtown Mall parade. Like last year, the Center will be offering visitors a table of mixed media supplies–spray paint, acrylics, conte and more–that they can use to make their blue bird art to donate, as well as a piece to take home.
SPECIAL CALL! A grant is paying for free journaling workshops for residents of the City of Charlottesville and Albemarle County who have visited our Sister Cities! (And in case you've been to one of them and didn't realize–they are Winneba, Ghana; Poggio a Caiano, Italy; Pleven, Bulgaria; and Besancon, France.  There is a choice between two dates: Sunday, March 4th, at the Center, 10:30 to 1:30, and Sunday, May 11, 1-4:30.  Please email lewisandclark@lewisandclarkvirginia.org to reserve a spot! All materials included but you need to bring mementos and photos of your trip.
SAVE THE DATE! Saturday, May 12, we're having a Spring Picnic fundraiser! Families can come try out our wooden boats on the Rivanna River and picnic on our lawn. There will be boat building opportunities–both full-sized boats and model boats. We'll be posting more information in the spring.
PAST EVENTS
Thursday, February 8, 2018, there's a Home Front Chapter meeting at the Center from 5 to 6:30. We will be discussing the 2020 National Lewis and Clark Trail Heritage Foundation conference, which we are hosting in Charlottesville! The President and incoming President of the national Foundation will be attending and giving a brief presentation on conferences of the past. Free and open to the public.
Saturday, February 10, 2018, from 10 to 3, at Key Recreation Center, the Lewis & Clark Exploratory Center is taking part once more in the Discovery Museum's KidVention. (We'll also be open at our own site with other activities.) Our theme this year is "Seeds that Feed" and the children will be invited to match seeds to what they develop into, learning about seeds from Africa, Native American agriculture, and Europe that were growing in the 19th Century United States.
Our January 2018 Activity Book of the Month was How to be an Explorer of the World, by Keri Smith. Visitors made mini-museums, tactile art boards (exploring texture by using materials from nature and human-made materials), and pencil rubbings of patterns out in nature.
Unlock History! through September 16, 2017  Our new exhibit/puzzle-solving game Unlock History! has been extended by popular demand.  $7 per person, Fridays and Saturdays, 10 to 4
We've developed a new history game for the Center, with an easy and a difficult version, depending on your age and your familiarity with puzzle games. It's called Unlock History! and it will be available to the public through the summer, and to school and scouting groups by reservation the entire year. It is similar to an Escape Room game, but it does the opposite–solving the puzzles lets you in, not out!
Each of our full-size boat replicas are locked up–and you need to figure out the numbers to unlock them. The Keelboat cabin must also be unlocked with a password. Entering the cabin, there will be three boxes that will be the next challenge. Their combinations are figured out by doing three puzzles within the Center: Jefferson's Decoder Puzzle; the Trail Map and Math Puzzle, and the Compass and Language Puzzle. Each puzzle teaches you about history and leads you to learn even more.
You have an hour to complete the challenge!
Saturday, October 7, 2017  Our Third Annual Boats & Butterflies Festival
A family day of taking Rivanna River rides on our handmade wooden boats and of learning about the greatest travellers of all: monarch butterflies. We also invite visitors to help us make our annual butterfly painting, collaged from butterflies donated by artists one year old and up! Lewis & Clark as Naturalists are discussed. $7 per person, 10 to 4
Thursday, October 12, 2017 "A Portable Feast"
On October 12, from 5:30 to 8 PM, we're having "A Portable Feast," Historic Food, Drink, and Music! We're raising money to make a $30,000 match (November deadline) for site improvements that will help accessibility for our children's programs, particularly for children with disabilties. Tickets are $50 per person ($15 being tax-deductible). Served buffet-style on the terrace and inside our building, the feast will include old favorites as well as rarer ingredients encountered by the Expedition, along with local wine, beer, and cider. Music will be provided by the Belmont Ramblers, an Old Time band. There will be a variety of activity stations: beading, postcard art, model boats, a spray paint project, and more! A silent auction of expeditions will take place throughout the evening: a kayaking trip, a photography hike, and other adventures!
Tickets available on Eventbrite!
Thursday, October 19, 2017 Home Front Chapter Meeting "Feeding Lewis & Clark"
Free Event and Open to the Public. Adults Only. The local chapter of the Lewis & Clark Trail Heritage Foundation meets four times each year, with a speaking program. This meeting will feature Executive Director Alexandria Searls presenting on the Lewis and Clark Seed Exchange garden of 2017, with information about the food that Native Americans shared with Lewis and Clark. 5-6:30 PM  We will also be watching a film about the Eastern Legacy of the Expedition.
Recent Past Events
Sunday, June 25, 2017  Lewis & Clark Exploratory Center Annual Meeting The Board of Directors of the Lewis & Clark Exploratory Center is having its annual meeting. The public is invited (adults only), but must RSVP before the event at lewisandclark@lewisandclarkvirginia.org or by calling 434-996-7282  This is a meeting where new members are elected and future plans are discussed. This year's meeting will feature a talk about the history of Lewis and Clark and maps, by Heather Riser. Free with RSVP. From 4 to 6 PM
Saturday, May 13, 2017   Happy First Birthday, Lewis & Clark Exploratory Center!  From 4 to 6 PM we're celebrating our first year open at our new location with some cake and candles (one to grow on!). Free Event
Thursday, April 20, 2017   As part of the Home Front Chapter Speakers Series, Peggy Crosson will talk about her efforts to establish a statewide Lewis & Clark Trail. 5-6:30 PM, free admission. Free Event