September 28, 2017 | Posted in Uncategorized | By Alexandria Searls
We're participating in the September 29 Conference and in Saturday's free arts events along the Rivanna River! We'll be closed at the Center, but open along the shores, so come on down to Darden Towe Park and enjoy music, boating, and the arts!
https://www.eventbrite.com/e/rockin-the-rivanna-tickets-36043181125
September 13, 2017 | Posted in Uncategorized | By Alexandria Searls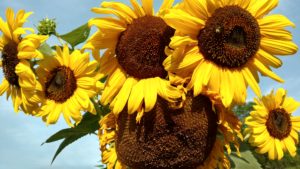 On October 12, from 5:30 to 8 PM, we're having "A Portable Feast," Historic Food, Drink, and Music! We're raising money to make a $30,000 match (November deadline) for site improvements that will help accessibility for our children's programs, particularly for children with disabilties. Tickets are $50 per person ($15 being tax-deductible). Served buffet-style on the terrace and inside our building, the feast will include old favorites as well as rarer ingredients encountered by the Expedition, along with local wine, beer, and cider. Music will be provided by the Belmont Ramblers, an Old Time band. There will be a variety of activity stations: beading, postcard art, model boats, a spray paint project, and more! A silent auction of expeditions will take place throughout the evening: a kayaking trip, a photography hike, and other adventures!
Tickets are available through Eventbrite, on our Facebook page, or by emailing lewisandclark@lewisandclarkvirginia.org
September 6, 2017 | Posted in Uncategorized | By Alexandria Searls
Reminder: The Lewis & Clark Exploratory Center will be closed at Darden Towe this coming Friday and Saturday. We're going to be at the Monticello Heritage Harvest Festival! Stop by the Seed Swapping Table on Saturday at Monticello to see our Garden Postcard display, 10-4. On Friday we'll be taking workshops that will help us with our Heritage Seed garden project for 2017!